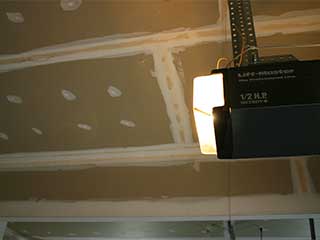 Common Garage Door Opener Types
Our company is a leading provider of garage door openers and we understand that choosing the right one can be a bit tricky. Our professionals have rounded up three main types, along with their pros and cons to help you make an informed decision.
● Chain-drive: This is the most common type of opener. They use a chain to push or pull a trolley that moves the door up and down. Chain-drives are both reliable and affordable, however, they can be noisy and so best suited for detached garages.
● Belt-drive: Belt-drive openers make use of a belt to move the door. They are quieter than chain-driven openers but are usually more expensive.
● Screw-drive: A threaded steel rod is rotated by this opener to move the trolley, which closes and opens the door. Screw-drive openers are less complex than their aforementioned alternatives and therefore are easier to maintain. However, they do tend to be noisier.
Common Malfunctions and Our Expertise
Garage door openers may stop functioning all of a sudden for no apparent reason. When that happens, you can count on our team to get to the bottom of the issue and take care of it before you know it! Here, below are the most common problems are often called to fix.
● Unresponsive opener: If the opener is not responding, it might be that the photo eye is blocked, the torsion springs are broken, the cables have snapped or the sensor is out of adjustment. With access to the right tools and experience, we can promptly solve the issue and prevent any mishap.
● Loud or strange noises made by the opener drive system: Garage door openers are made up of different moving parts that require periodic maintenance, lubrication and adjustment. Our specialists will carry out a thorough visual inspection of the various components of your system. We will fix any bends or dents, as well as, replace hinges.
● Opener sensor misalignment: Opener sensors can get misaligned easily, leading to your garage door repeatedly reversing or refusing to open. However, we can easily put it back in place after checking the incorrect wiring, replacing the sensors and so on.
Professional Installation Services
When it comes to professional door openers installation, our team offers unbeatable services in Glendale. Garage doors are an integral component of any home and with our high-end openers from popular brands including Liftmaster, Windsor, Sears, Craftsman and Genie, accessing your garage will become safe, simple and convenient.
Are you ready for a new garage door opener? Is your opener not functioning to its optimal? Contact us today, for any assistance!
Need more? We also provide:
Roll up Garage Door Maintenance
Belt Drive Opener Installation
Garage Door Torsion Spring Replacement