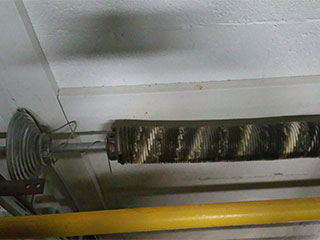 One of the most important parts of your garage door are the springs which do all the heavy lifting. Whether these are torsion or extension springs, the intense pressure they are put under every time the door opens and closes means they can only keep going for so long, and will eventually wear out. It's essential that homeowners know the warning signs and take steps to get these components professionally replaced when necessary.
Watching for Warning Signs
A garage door that wobbles, shakes or squeaks during its operation might be in need of spring replacement. These common issues are usually traced back to a faulty or weakening component and can be quickly resolved by a professional technician.
Prevent and Protect
A spring that breaks completely can be extremely dangerous; not only can the sudden release of tension cause it to whip around, the door panels will suddenly collapse as well. This can be dangerous for anyone nearby, and should be avoided at all costs - if your system is showing signs of imminent spring failure, contact us immediately.
Professional Replacement Services
Because they support the entire weight of your garage door, your springs are under a lot of stress. This makes them potentially dangerous to anyone in the vicinity when they eventually break. We strongly recommend contacting our professional technicians to have them deal with your spring issues rather than trying to fix these dangerous components by yourself.
Upgrading Your Old Springs
Modern garage door springs benefit from many technological advancements, and are superior in many ways to their older counterparts; improved anti-corrosion coatings and stronger materials make for stronger, longer-lasting springs. Investing in new ones will help to ensure that you'll get many more years out of your garage door.
Contact Us for Professional Assistance
Our technicians are fully prepared to deal with any spring related problem you might be facing. Call our experts at Garage Door Repair Glendale today to find out how we can help.
We also offer the following:
Garage Door Safety Inspections
Opener Sensor Repair & Replacement
Oil Tempered Torsion Springs
Emergency Garage Door Services